About Go Golf Conference & Events Management
"Working to make a difference" is my passion in life ~ Dawn Donahue
I am a founding sponsor of the BC Hospitality Foundation (BCHF), on the BCHF Advisory Board, and Chair of the Scholarship Committee for BCHF. BC Hospitality Foundation Mission
Our mission is to offer financial assistance, beyond traditional medical benefits and insurances, to individuals within the hospitality community in their times financial need. As well, we are committed to supporting the industry's next generation by providing scholarships  to selected students enrolled in hospitality, culinary and wine programmes in BC.  
Strategic Business Planning, Event Production and Management
Born and raised on 2000 acres in the Ottawa Valley, in beautiful central Ontario
Educated at University of Guelph and Simon Fraser University, with continuing education in leadership, professional conference planning, meeting planners international, not for profit board and governance seminars, marketing, media relations, and fundraising
Certified Culinary Travel Professional, with the World Food Association
Business Woman, Speaker, Educator, Event Producer and Manager, Consultant
Founding Sponsor of the BC Hospitality Foundation, Advisory Board Member BCHF, Chair of Scholarship Committee, www.bchospitalityfoundation.com
Early Relationship with Eat Fresh and the "5 mile" diet – grew up on a working farm, with a market garden ( fresh vegetables, free range animals, and fresh fruit);First job – picking vegetables for sale (3 years old);Second Job – selling vegetables at the local farmers market (3 years old), first event – farm auction in 1966 (age 10)
First Career- the hospitality industry. European trained – six month Internship in Germany (1974); Operated the Wheelhouse Neighbourhood Pub (1980 to 1985), Developed and operated Casey's Nightclub, Woods Hotel, Digger O'Rielly's, Cold Beer and Wine Stores, hands on professional development holding all positions in the industry from dishwasher, waitress, bartender, housekeeping, chef, manager, front of house and back of house. Loved it!
Managing Partner of the Delta Lion Pub and Bistro, Mahue's Restaurant, Lion Catering, (1987 – 1996)
DJP Consulting Company – 1983 to present, strategic planning, needs analysis, feasibility studies, operational planning, committee restructuring and goal oriented events
Go Golf Events Management – Specializing in Conference Planning, Meeting Management, Golf Tournaments, Awards Galas, and Fundraising events
Bragging rights – Created and Produced over 1100 events, raising over $12.2 million dollars in the last thirty years for charities and not for profits.
Involved in the community with event planning, volunteering, and training committees for community fundraising events
Nominated for Influential Business Woman of the Year in 2004, and Women in Food Minerva Foundation 2009
Gala Producer for the BC Restaurant Hall of Fame, BC Sports Hall of Fame, the Founders Dinner for the BC Hospitality Foundation
Tournament Director for Wolseley BC Charity Golf Tournament, Women's Media Golf Classic, Coast Capital Savings Charity Golf Tournament, Saccomaniacs Charity Golf Tournament, BC Sports Hall of Fame, BC Hospitality Foundation, Ovarian Cancer Canada, The Shriners of British Columbia, The BC Restaurant and Foodservices Association, The Zlotnik Foundation, The Leaders Invitational, The Zajac Women's Tournament, The One and Only Golf Tournament, Logotex Charity Classic and the Wood Gundy at Park Place Charity Invitational
Created and Produced over 1100 events, raising over $12.2 million dollars in the last thirty years for charities and not for profits
Past Board Member of the BC Sports Hall of Fame, Zajac Ranch Society; West Coast Chocolate Festival,
Experiences- Air Canada Championship, the BC Open, the Ryder Cup at Valderama, Spain, the Canadian Tour, The West Coast Swing, PGA Tour
Hobbies – cooking, traveling, wine and food pairing, golfing, hiking, swimming, gardening, reading and mentorship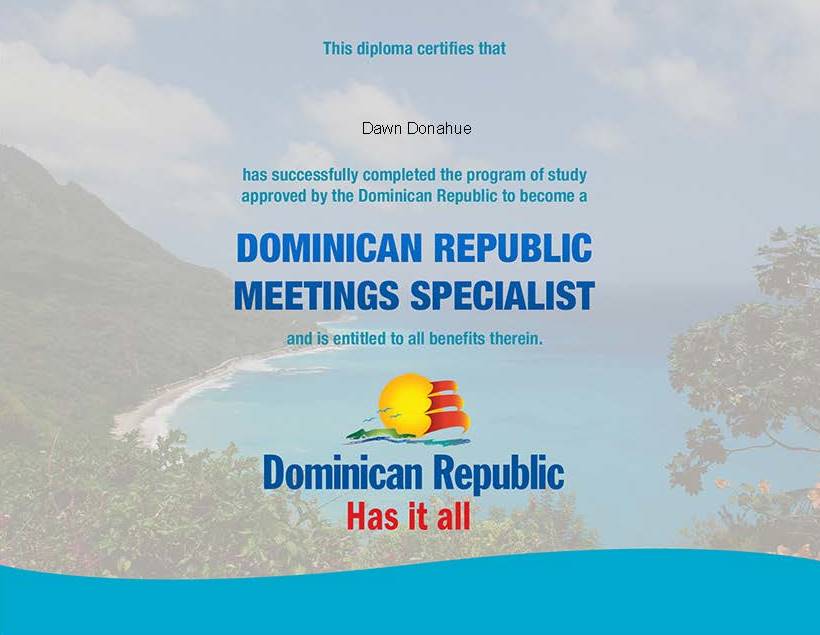 Dawn Donahue aces final exam to become a Dominican Republic Meetings Specialist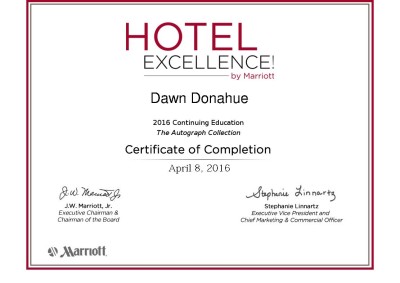 "If ever there was an extraordinary woman connecting fundraising, success, events, food, community, empowerment, collaboration, and volunteering, it surely is Dawn Donahue."
Surrey Food Bank