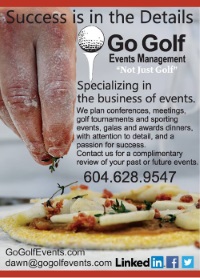 Since 1995, Go Golf Conference and Events Management Inc is a full service company and leader in producing and executing corporate and charity events. Not just golf tournaments, but conferences, meetings, awards ceremonies, charity galas, fundraisers, corporate and client appreciation events.
Specializing in the hospitality arena, with a focus on the complete event, from start to finish, Go Golf will create and produce an event that meets your criteria. Offering imaginative suggestions for the corporate client looking to wow their guests, or working with a volunteer committee to host an event with a fundraising or charitable component, Go Golf will support the client and the committee in all their endeavors, to produce an event that is sustainable, long term, and successful. From the behind the scenes administrative support, to the front of the line leadership roles the Go Golf Team can be there in any capacity you choose.
Our #1 goal is to provide the highest level of service, through a team effort, to enhance, or create, a truly memorable experience. Our commitment to you – we finish what we start.
Go Golf Conference and Events Management Inc. is ready to help your company, association or non-profit make your next conference, meeting, or event a huge success.