Upcoming Seminars & Events
We came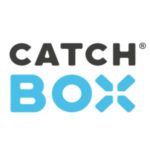 up with the Catchbox because we wanted to change the status quo and make events more of a dialogue as opposed to a one-way monologue. With Catchbox, getting audiences to participate becomes as easy as throwing them the box. Because this is faster and easier than passing a handheld microphone, questions, comments, and discussion become more spontaneous and can occur throughout a presentation or lecture, not just at the end. No technology or tool is effective if people don't know how to use it. This is why people love the Catchbox – it doesn't require elaborate explanations, downloads, or manuals to understand; It's just like a normal wireless microphone but you throw it. Electronics automatically mute the audio when the device is in the air or being dropped. With our Custom Cover Service, you can flawlessly integrate your brand, event theme or any other graphics onto the 4 sides of the Catchbox.

Thank you GolfReg for sponsoring our Seminar Series Website!
GolfRegistrations is the industry leading golf tournament registration and management platform for fundraising and charity golf tournaments. Since 2003, GolfRegistrations has hosted thousands of charity golf tournaments for non-profits, schools and community organizations, easing the burden of golf tournament management and helping organizations raise more money online.