Golf gatherings adapt to the Gen Y approach – Adapting to the golf audience..
Are Millennials more interested in lattes in the lobby and video games in the sports bar than birdies and bogeys on the golf course?
…Millennials desire a diverse, multi-sensory experience that transcends the traditional and oftentimes unimaginative golf event.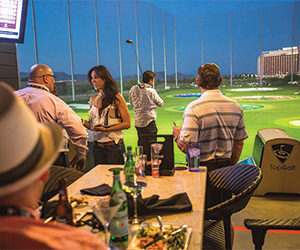 "They don't like staring (at the fairway) and waiting at the tee, so organizers must adapt to their wants and needs by offering interesting entertainment elements and methods for social media engagement," says Dawn Donahue, president and CEO for Go Golf Events Management in Vancouver, British Columbia. "At our events we encourage interaction on Facebook, Twitter, Instagram, Pinterest, Linkedin and other platforms. We even put photo booths on the golf course so it makes it easier to post."
…Donahue also suggests putting emphasis on creative food and beverage choices for a Millennials golf event.
"Many Millennials are foodies who grew up watching the Food Network and they're enamored with creative cuisine on and off the golf course," Donahue says. "Providing chef-inspired delicacies, healthy and gluten-free choices and craft beers is a lot more tempting and exciting to them."
Time management is an extremely important issue to Millennials, and planners should consider offering shorter events such as three-hole, six-hole and nine-hole tournaments, putting contests, golf simulator competitions, night golf with glow-in-the-dark balls, trick shot demonstrations and ballroom golf competitions.
"Regardless of what format you select, make sure it ends on time," Donahue says."Millennials have jam-packed lives with lots of multitasking and time commitments, and they don't want to hear excuses about why their golf outing won't finish on time."
… "You must be very innovative and work diligently to make golf appealing to Millennials because they won't just show up like Baby Boomers," Donahue says.