GO GOLF CONFERENCE AND EVENTS MANAGEMENT (GGEM)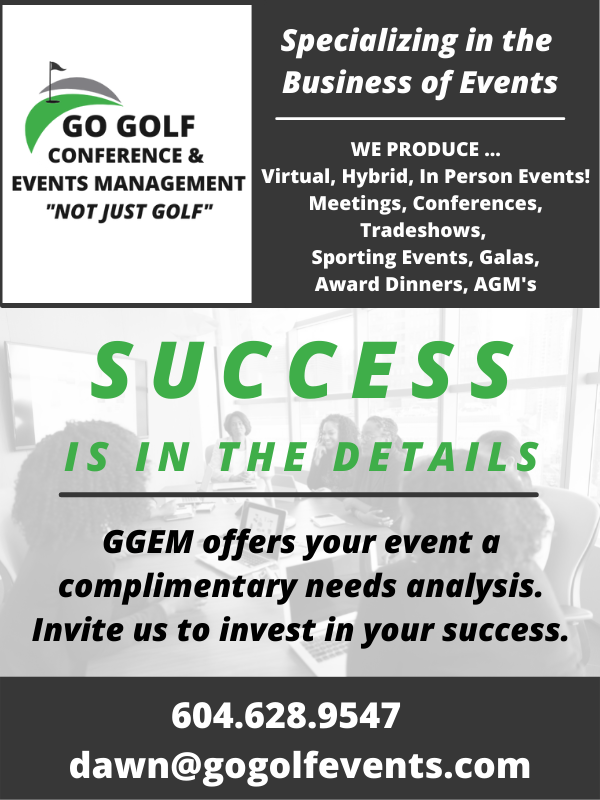 Dawn Donahue, President and CEO
Dawn Donahue, President and CEO, Go Golf Conference & Events Management Inc (GGEM), has been involved in the event business since the 1978.
Experts in local food and beverages, culinary tourism will always be an important part of your event – added value to your budget. Offering creative suggestions for the corporate client looking to wow their guests, or working with a volunteer committee to host an event with a fund-raising or charitable component, Go Golf will support the committee in all their endeavors', to produce an event that is sustainable, long term, and successful.
We create solutions & opportunities. Enjoy challenges. We share expertise to support events. Invite us to the discussion table. We save time, money, learning curves, create a better event experience for you & your team MORE ABOUT US
From the behind the scenes administrative support ...
.. to the front of the line leadership roles the Go Golf Team can be there in any capacity you choose.
Event Planning
Corporate Events
Event Production
Event Coordination
Technical Support
Project Management
Content Strategy
Management Consulting
Business Consulting
Strategic Planning
WE PRODUCE EVERY TYPE OF EVENT
Book a Consultation
GGEM offers your event a complimentary needs analysis.  Invite us to invest in your success.  dawn@gogolfevents.com
Dawn & her team at Go Golf are amazing at what they do.  Her attention to detail & her ability to adapt to the ever changing landscaping that comes from planning an event is a skill seldom seen in this day and age.  I am in a unique position where I deal with many event planners on a daily basis and Go Golf shines at what they do.  I highly recommend their services.
Dawn, A most professional event.  I was awed by how smoothly the transitions between committee reports and the live interface went.  Loved the way you did raffles too.  My association is not as involved as a group, nor do we have an annual meeting, otherwise I would talk to you about an event.
" I have had the pleasure of working with Dawn Donahue and her team on a number of projects and events over the last few years. Where do I begin? A truly inspirational leader, she is a powerhouse of organization and her turn-on-a-dime adaptability is nothing short of amazing. Time after time she has mentored and impressed all that work with her and, with a laugh and a smile, is able to coax the very best out of volunteers and sponsors, that bend over backwards to help her achieve goals on behalf of her clients and charitable organizations. In this new normal world of ours, she continues to improve and reinvent her company to give her clients the best experience possible. I am grateful to have met Dawn and look forward to her building on what she has created "
Our golf tournament was fabulous. How fortunate for us that we had you and your team this year. Your guidance knowledge, support and enthusiasm for our success was way beyond my expectations. Thank you seems inadequate to express my gratitude. You were a big big part of our success. Already looking forward to 2023.  Kindest regards, Raf Sansalone
"Dawn, you put on a big splash. Stellar communication from start to finish. Plenty of notice of the event; your timelines ensure we are prepared without stress, panic, and inconvenience. 😳😳 At the event itself, you're organized. At your events everyone knows what's going on, happening, and what's expected. That brings a certain calm to vendors and participants alike. You take the best care of your vendors, always have. You make us feel appreciated for our efforts. Something as simple as a garbage can at the hole. There's lots more that makes you a leader in the industry."
Hey Dawn,  we're just leaving the course now and we had a blast! What a great event and we were so glad to have taken part in it. Your event staff and team of volunteers were so great and helpful and everything went smoothly. We ended up selling out a lot of our flavours too so we had an amazing sales day and the feedback was overall positive.
The event got us in front of the perfect audience and we are so grateful to you for reaching out and including us. This may very well be a great jumping off point to get into some retailers and gain new partnerships.    Definitely put us down for next year and keep us in mind for future events.     All the best and thanks again.
CALL US
+1 (604) 628-9547